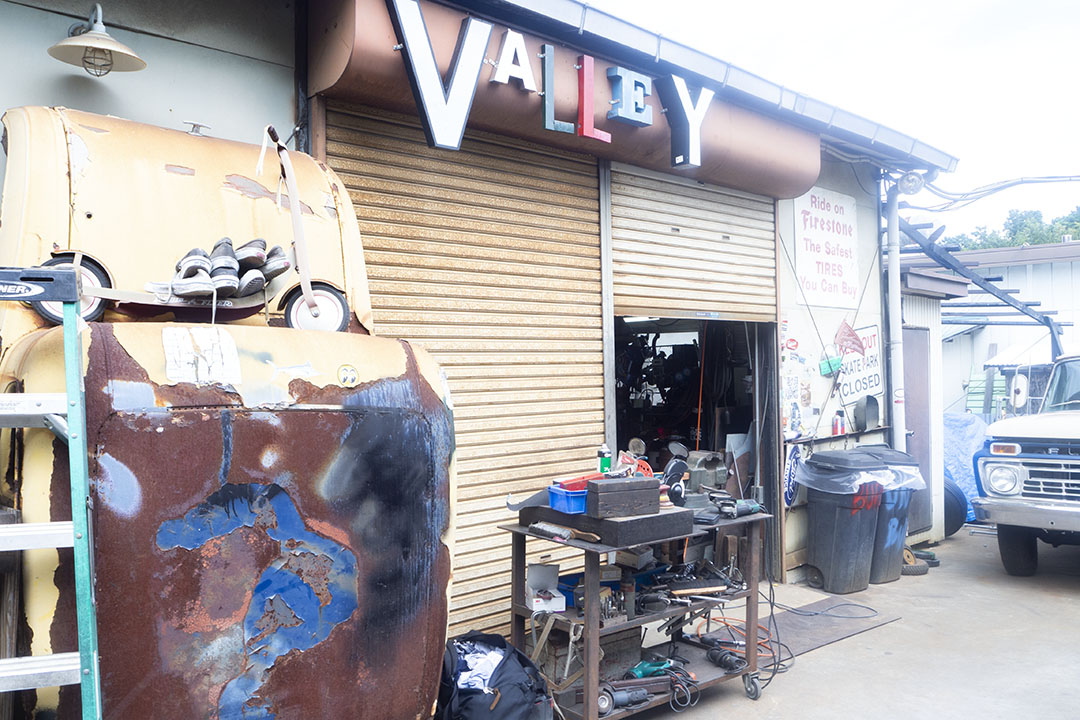 幾度なくフィールドに出向き、その度に新たな景色と魚に出会う。
そして適当なものではなく、いつもその釣行に付き添う拘りのタックル。
タックルのプロダクトに、時にはバックボーンの魅力に憑りつかれた釣り人を紹介するこのコーナー。
第三回目は、ストリートファッションを牽引し、今は釣り具とのコラボレーションも果たすブランド「CHALLENGER」。
そのCHALLENGERのプロダクションマネージャーを務める新谷竜治氏。
I went to the field many times, and each time I encountered new scenery and fish.
And it's not a suitable tackle, and it's a tackle that always accompanies the fishing line.
This corner introduces anglers who are sometimes obsessed with the charm of the backbone for tackle products.
The third is "CHALLENGER", a brand that leads street fashion and now collaborates with fishing tackle.
Mr. Ryuji Niya who is the production manager of the CHALLENGER.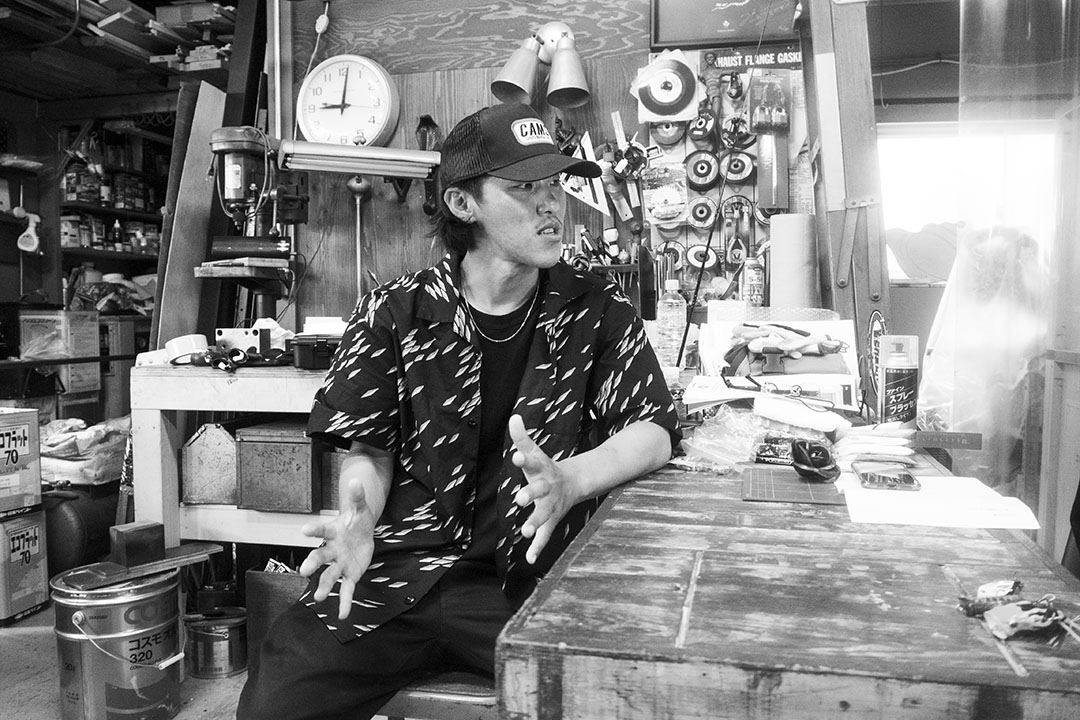 ブラックバスを知ったのは、小学3年生くらいの時に、テレビアニメ「グランダー武蔵」を観て、こんなすごい魚がいるのかと知ったのがキッカケでした。
すごい魚がいると思い、色々と調べている中、近所の古本屋でアメリカの釣り雑誌を手に取ったんです。
本を開くとアニメの世界とはまた違った、大きなバスボート、アメ車でボートを引っ張っているリアルな光景、遊び心のある釣り具で釣りをしている写真が載っていて、子供ながらにグッと心を掴まれたんです。
そこから父が海釣りをずっとしていたので、釣りがしたいと相談して、そこから釣り具を手にして、フィールドに通うようになりました。
ただ当時、誰かが親切にバス釣りを教えてくれることなどなく、始めてから釣るまで2年掛かったんです。
初めて手にしたタックルもベイトだったので、まずちゃんと投げるのに苦労してましたね(笑)
そこからは止めずにずっと釣りを続けて、近くのフィールドからより遠い釣り場に行きたいからバイクの免許を取ってなど、主軸にあるのはいつも釣りでしたね。
I first learned about black bass when I was in the third grade of elementary school when I watched the TV anime "Grander Musashi" and knew that there was such a great fish.
I thought there were some amazing fish, and while I was researching various things, I picked up an American fishing magazine at a second-hand bookstore in my neighborhood.
When you open the book, you can see a big bus boat, a realistic scene of pulling a boat with an American car, and a picture of fishing with playful fishing gear, which is different from the world of animation. I was grabbed by my heart.
From there, his father had been fishing in the sea for a long time, so he consulted with him about fishing, and from there he picked up fishing gear and went to the field.
However, at that time, no one kindly taught me how to fish for bass, and it took me two years from the beginning to fishing.
The tackle I got for the first time was also bait, so I had a hard time throwing it properly (laugh)
Fishing was always the main axis, such as getting a motorcycle license because I wanted to continue fishing from there and go to a fishing spot farther from the nearby field.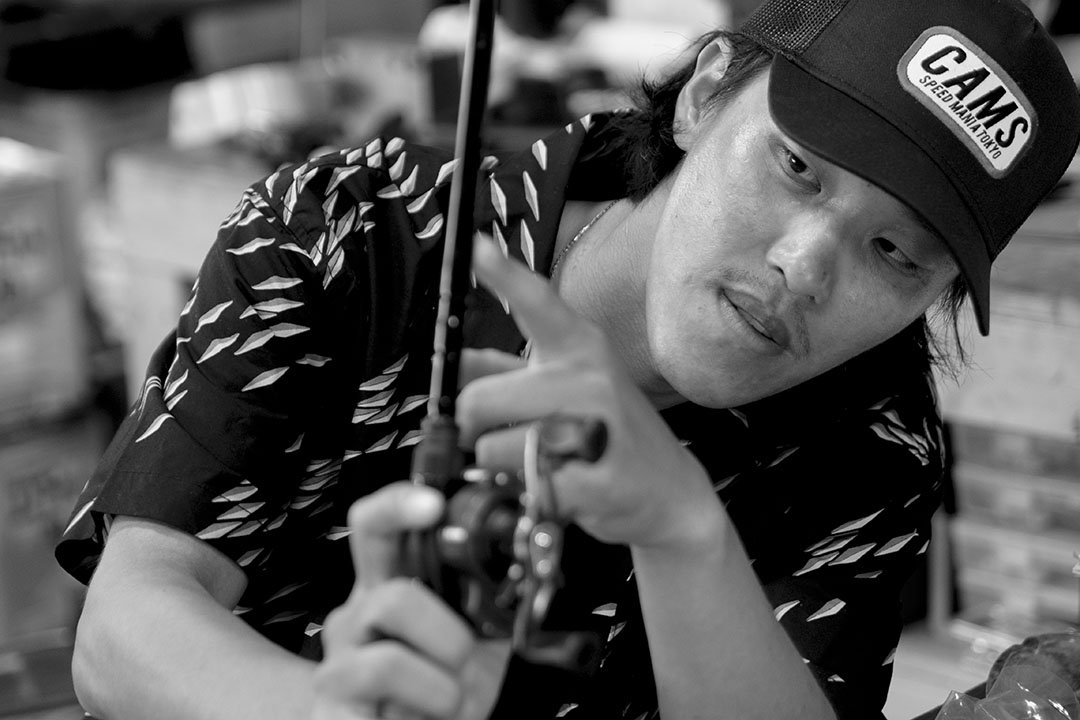 ■MY TACKLES
色々なメーカーのリールを持っていますが、DAIWAのものが多いです。
昔、アメリカのアングラーがDAIWAを使っている光景を見て、外国人が使うDAIWAっていうのが、すごく魅力的に映ったんです。
ロッドは今はアメリカの「St. Croix」のものを使っています。
最新鋭のものも好きなんですが、どこか懐かしさや遊び心を感じるデザインのものが好きなので、とても僕にフィットしてます。
I have reels from various manufacturers, but most of them are from DAIWA.
A long time ago, when I saw an American angler using DAIWA, the DAIWA used by foreigners seemed very attractive.
The rod is now from the American "St. Croix".
I also like the latest ones, but I like the ones with a design that feels nostalgic and playful, so it fits me very well.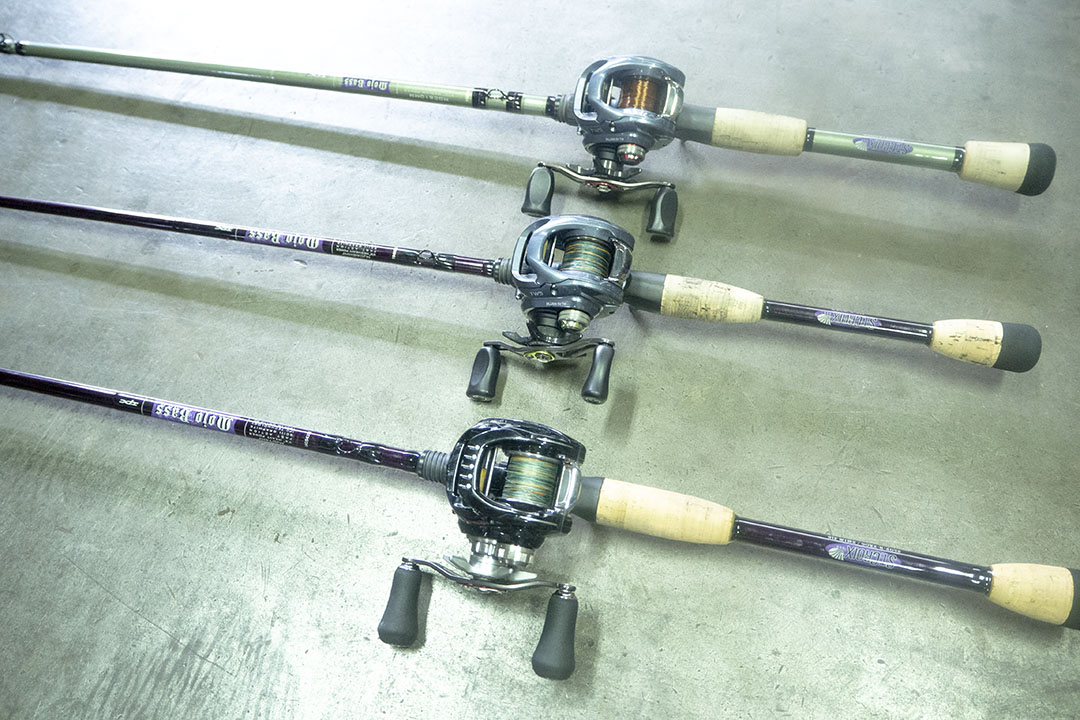 ■BEST TACKEL
St.Croix/Mojo Bass MJC68MHF
×DAIWA/ZILLION
フロッグゲーム用に使う相棒です。
僕自身のレコードを出したタックルです。
僕はこれを忘れたら、家に帰りますというくらい、なくてはならない存在です。
A companion used for frog games.
This is the tackle that put out my own record.
If I forget this, I will go home.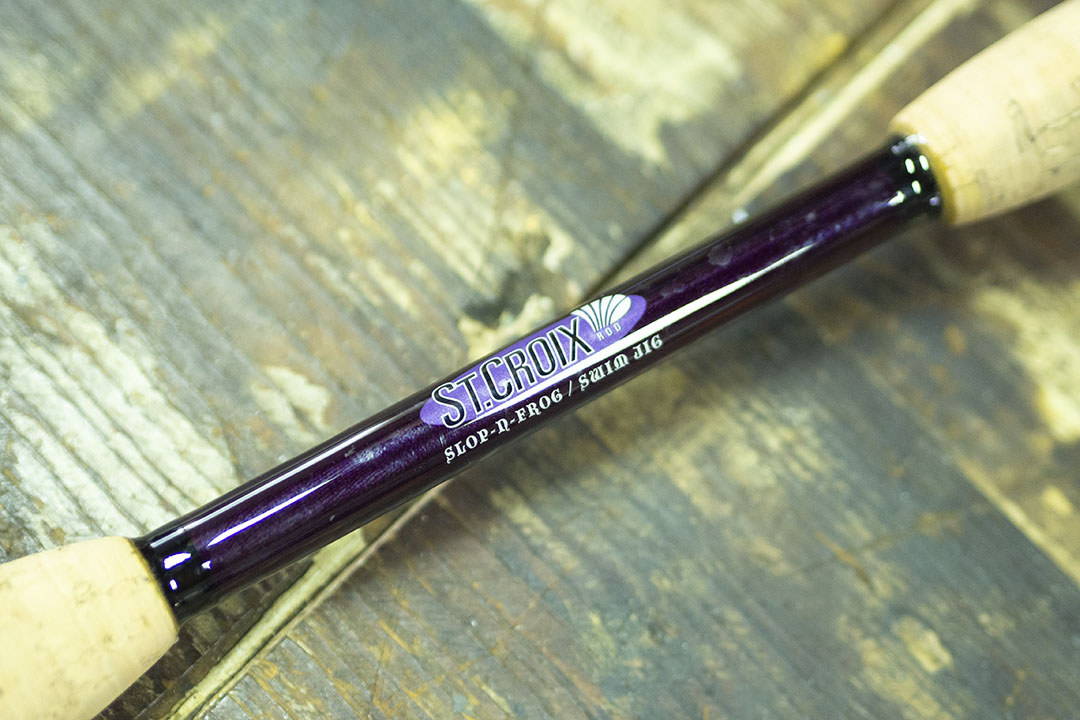 St.Croix/Mojo Bass MGC610MM
×DAIWA/ZILLION
グラス素材のロッドです。
バイブやクランクの巻物から、羽ものでも使います。
釣り具の使いやすさとかっこよさの両立は難しいなと思っているんです。
しかし、振り切った先にあるアメリカの100%グラスは、日本のロッドにはない個性と抜け感があるので気に入っていますね。
It is a rod made of glass material.
You can use it from scrolls of vibrators and cranks to feathers.
I find it difficult to achieve both ease of use and coolness of fishing gear.
However, I like the 100% American glass, which is at the end of the swing, because it has a personality and a sense of omission that Japanese rods do not have.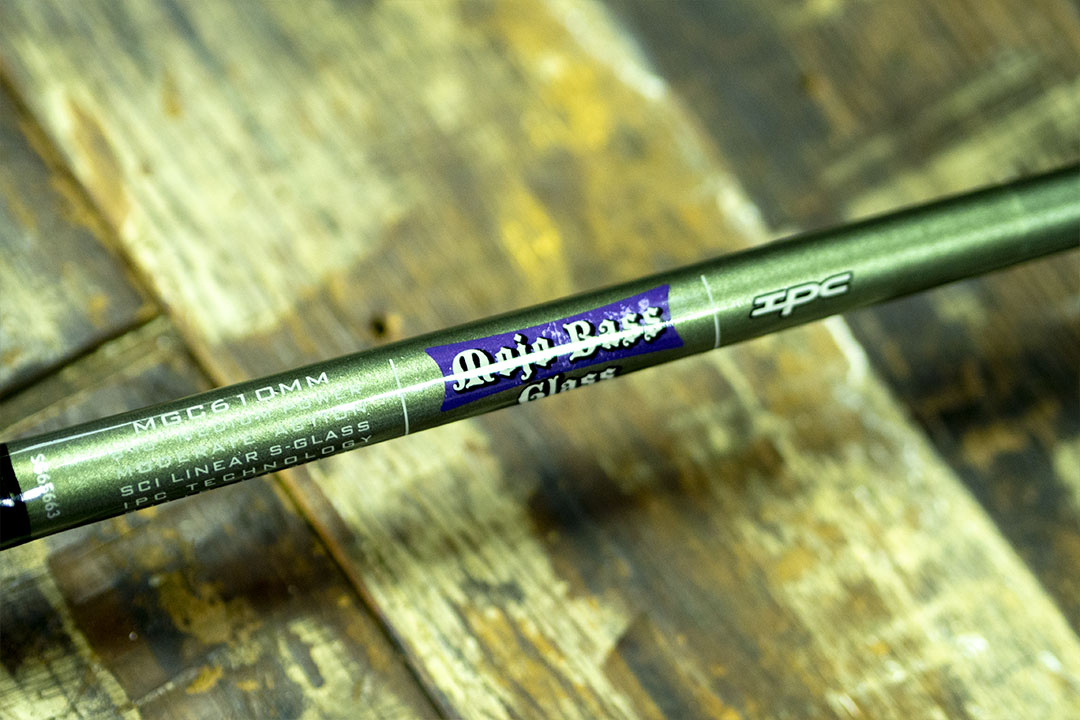 St.Croix/Mojo Bass MJC74HF
×DAIWA/ZILLION
モジョバスのヘビーパワーロッドです。
夏限定ですが、1/2ozくらいの重めのテキサスリグでパッドに落とし込み、そこから引きずり出すパンチング(ぶち抜き)用に使います。
PEがガイドに擦れて鳴くのですが、その音も釣り場では非常に興奮します。
冬場はビッグベイトやアラバマリグで使ったりします
It is a heavy power rod of Mojo Bass.
It's only for summer, but it's used for punching by dropping it into a pad with a heavy Texas rig of about 1 / 2oz and dragging it out.
The PE rubs against the guide and squeals, but the sound is also very exciting at the fishing spot.
In winter, I use it for big baits and alabama rigs.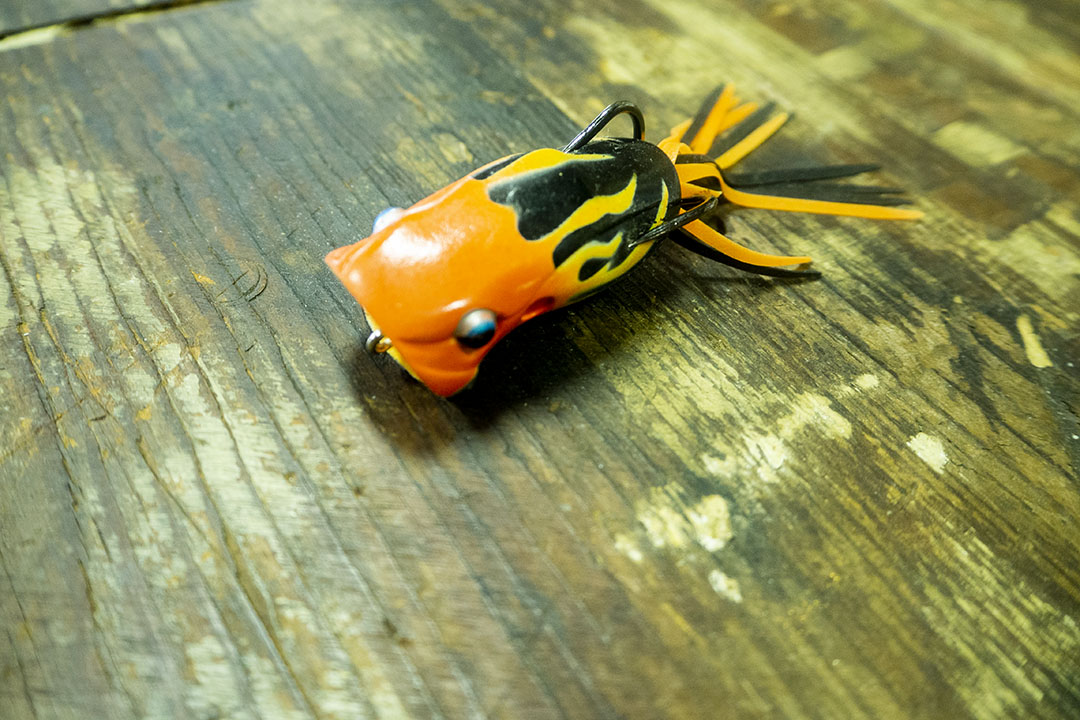 ■MY LURE BEST 3
No.1
EVERGREEN
POPPER FROG
僕にとって一番デカいのを釣ったということもあるのですが、フロッグスタイルが一番好きなんです。
琵琶湖に行った時に、琵琶湖の近くの釣具屋で買ったEVERGREENのPOPPER FROGを持って、翌日釣りに行ったら自身のレコードの56cmを上げたんです。
印象的だったのは出方。
藻の中から一気にバコーッ!!と飛び出して来て、一気に引き込まれていきました。
カバーやパッドを狙って、首を振らせてポップさせる。
自分で動かして、ちゃんとフッキングしないと決まらないフロッグ。
そのマニュアル感が好きで、魚をおびき出す時に偶然がない部分も好きですね。
I've caught the biggest one for me, but I like the frog style the most.
When I went to Lake Biwa, I took the EVERGREEN POPPER FROG I bought at a fishing tackle shop near Lake Biwa, and when I went fishing the next day, I raised my record 56 cm.
What impressed me was how to get out.
Bakot from the algae at once! !! I jumped out and was drawn in at once.
Aim at the cover or pad and shake your head to pop.
Frog that you can't decide unless you move it yourself and hook it properly.
I like the feeling of the manual, and I also like the part where there is no chance when attracting fish.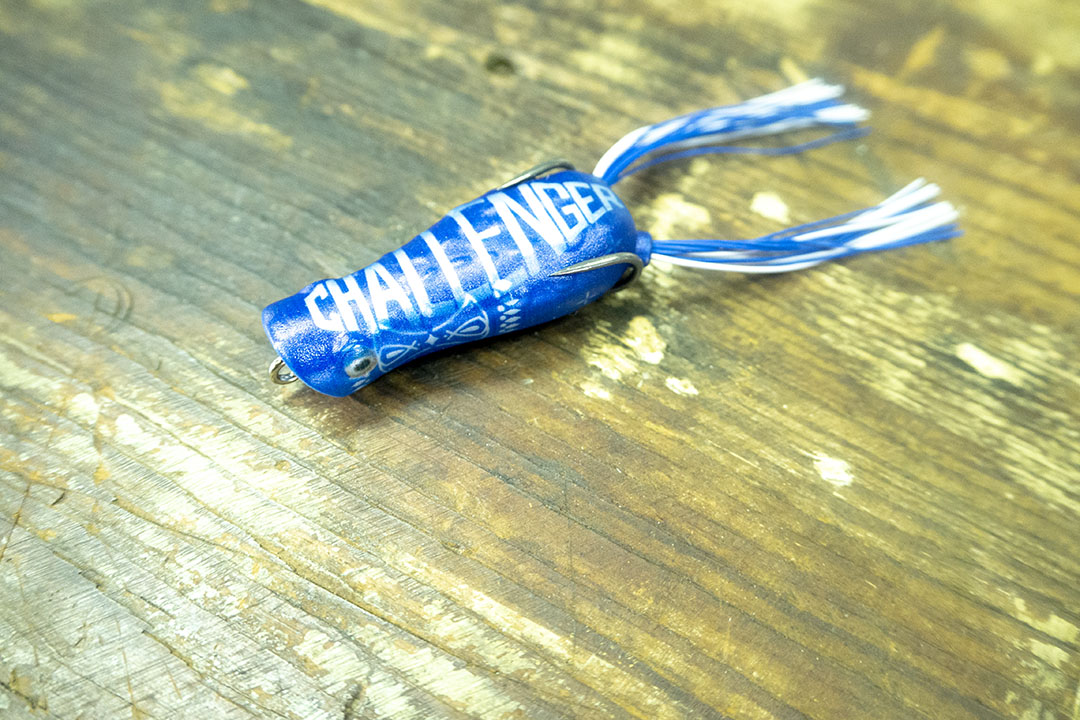 No.2(同率)
CHALLENGER×DAIWA
BANDANA FROG(STEEZ POPPER FROG Jr.)
DAIWA所属のプロアングラーである内山幸也氏の協力の元に開発された、STEEZ POPPER FROG Jr.の特別カラー。
CHALLENGERのアイコンでもあるバンダナをカラーリングに落とし込みました。
この柄を出すのに非常に苦労し、なかなか細かい柄をプリントというのは難易度が高かったので、試行錯誤の末に世に出せました。
当時販売はせずに、限定Tシャツのノベルティとして作ったものです。
A special color of STEEZ POPPER FROG Jr. developed with the cooperation of Mr. Yukiya Uchiyama, a professional angler belonging to DAIWA.
The bandana, which is also the icon of CHALLENGER, has been incorporated into the coloring.
It was very difficult to put out this pattern, and it was very difficult to print a very fine pattern, so I was able to put it out after trial and error.
It was not sold at that time, but made as a novelty of limited-edition T-shirts.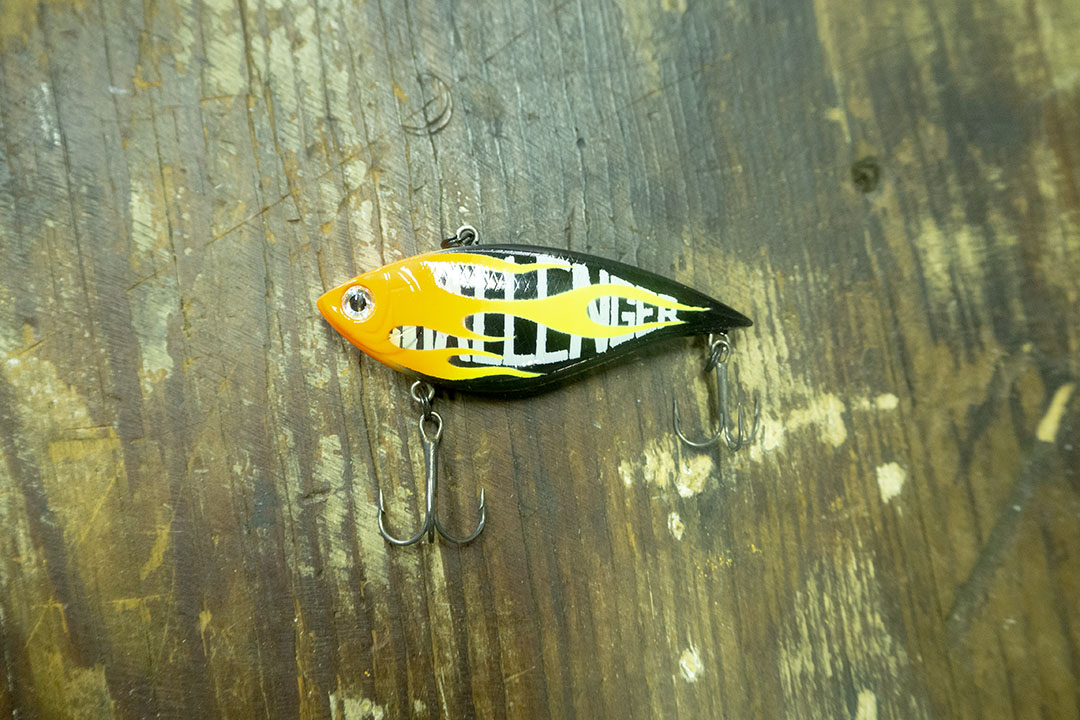 No.2(同率)
CHALLENGER×DAIWA
T.D. VIBRATION "V8 FIRE"
こちらもキャップのノベルティとして生まれたもの。
アメ車のV8エンジンと、燃え上がるエンジンをモチーフにして、特別なカラーリングにしました。
僕らに必要不可欠なアメリカンカルチャーを演出しました。
過去にはDAIWAとA BATHING APEがコラボしているのを見て、原宿のブランド達がこのT.D.バイブを引き継いでいったら面白いなと思ってます。
また次の世代が面白いことやってくれたらいいなって思ってますね。
This was also born as a novelty of caps.
The V8 engine of the American car and the burning engine are used as motifs for a special coloring.
We directed the American culture that is indispensable to us.
Seeing DAIWA and A BATHING APE collaborating in the past, I think it would be interesting if the Harajuku brands took over this T.D. vibe.
I hope the next generation will do something interesting again.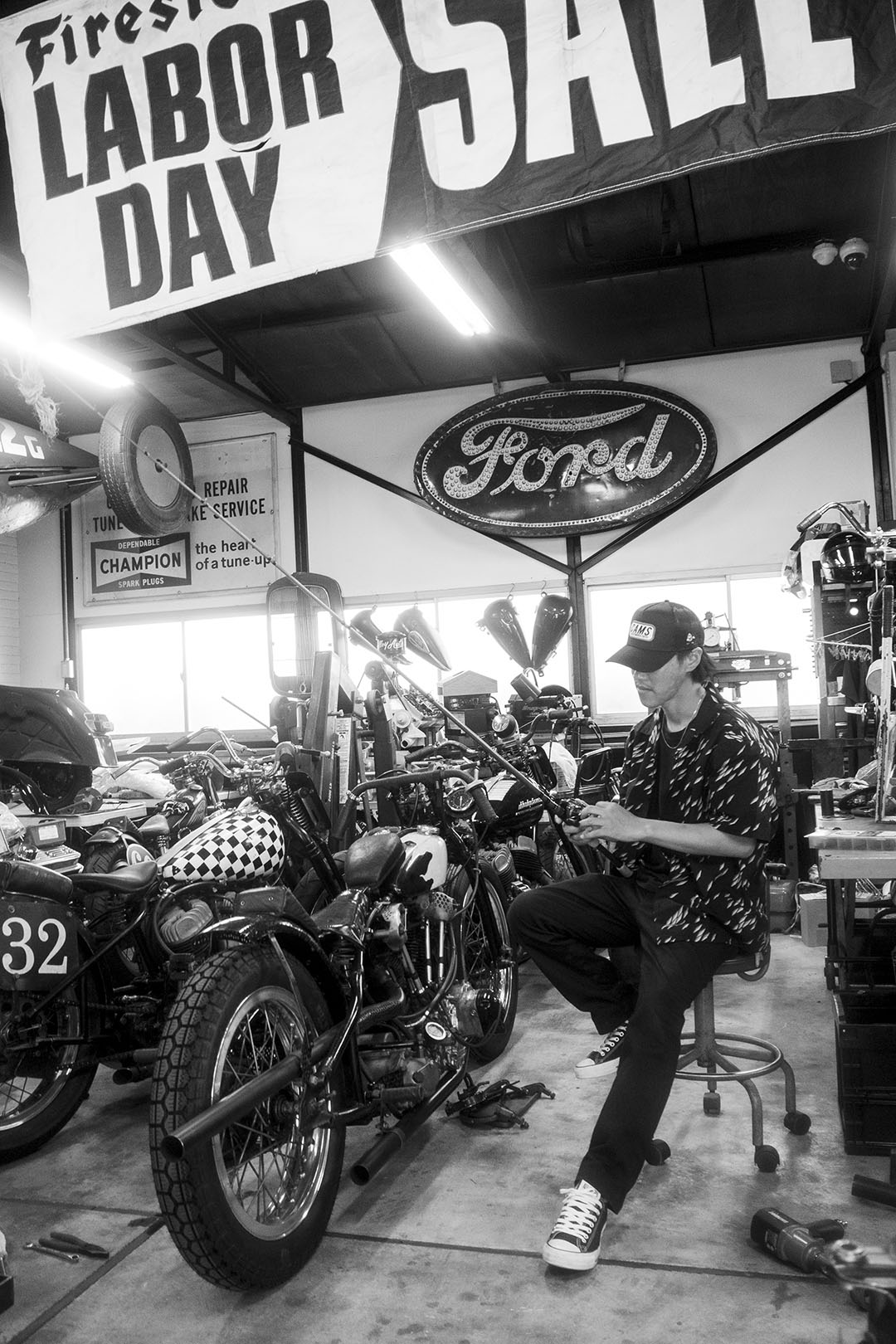 ■遊び心
僕の釣りのスタイルに最も欠かせないのは「遊び心」。
カルチャーの始まりって、いつもキッカケは単純で、面白いやカッコいいって気持ちだと思うんですね。
それは子供の頃から変わらなくて、大人になってもいつも面白いことに貪欲で、いつまでも楽しんで何かをしていたいですね。
だから制限を掛けるようなスタイルを取りたくないし、そこも含めて遊ぶってことを大事にしてます。
"Playfulness" is the most indispensable part of my fishing style.
At the beginning of culture, I always think that the kick is simple, interesting and cool.
It hasn't changed since I was a kid, and even when I grow up, I'm always greedy for interesting things, and I want to enjoy doing something forever.
That's why I don't want to take a style that puts restrictions on it, and it's important to play with that as well.
新谷 竜治
CHALLENGER プロダクションマネージャー
元プロスケーターである田口悟史が2009年に立ち上げたストリートブランド「CHALLENGER」のプロダクションマネージャー。
少年時代からバスフィッシングとアメリカンカルチャーをこよなく愛する。
自身のバスボートも霞ヶ浦に置き、根を張ったスタイルのあるアングラーを貫く。
Production manager of the street brand "CHALLENGER" launched in 2009 by former professional skater Satoshi Taguchi.
He has loved bass fishing and American culture since he was a boy.
He also puts his own bassboat in Kasumigaura and runs through an angler with a rooted style.
-CHALLENGER-